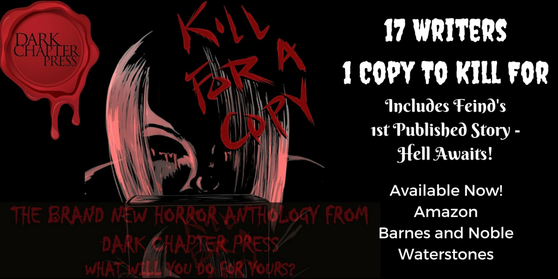 ---
CALLING ALL SCRIBBLERS 
OF THE ARTISTIC KIND!!!
---
Thy Demons Be Scribblin would like to begin taking submissions from you artistic types who love to draw the evil thoughts that plague our minds! Do you have what it takes to impress the Scribblers? We know many of you will. So what are we looking for you ask? That is easy and difficult to answer as art is subjective, however, you need only really look to the world of metal album art if you'd like to know our taste in general. Take a look at any Cannibal Corpse album cover and you get the idea but we're also fans of artists like Pushead or H.R. Giger (RIP) as long as it's cool & evil and would most likely make your grandma vomit or look away in disgust we'll like it. Feind has a soft spot for skulls while Cult loves gore but we both enjoy dark Gothic prints, twisted erotica, bizarre medieval works (think H. Bosch) and the macabre so just impress us! Some examples are posted below. So what are we offering you? If we love your artwork we will proudly display it and make you our Scribbler Artist of the Month. Sorry, no party hats or fireworks included with the title. Your work will be prominently displayed on our home page and a page will be dedicated to you for the entire month (It will always be found here). We are not able to offer you a cash reward for your work at this time (yes, the Scribblers are poor mother fuckers) but we can offer plenty of free promotion of your work with links to your own website, blog, social media pages, or whatever you happen to have and we will proudly promote your work through our social networks as well as this site.
It's all about supporting each other after all. While professionals are not discouraged from submitting, the Scribblers are mainly looking for un-established artists who need some attention (don't we all!). The Scribblers are still in the beginning stages of our own writing careers and are looking to promote artists at a similar stage.
How to submit your art to The Scribblers?
 
We'd like to keep it simple unless we get flooded with submissions. (Don't worry Feind I'll dig out the brollies) Just send us your artwork in an e-mail. Please refrain from attaching your work to a sizable chunk of masonry which you then might toss at us or through our windows, not nice and or funny. Please do not send us your entire portfolio or we will not even look. (I will Feind. But we do have limited time on our hands, and grisly scribbles to create to sate our adoring fan's discerning appetites. Are there still two Feind or did we lose another?).
Send us 1 or 2 of your most evil drawings. If we select you as our Scribbler Artist of the Month we will contact you for more info. As this is our first time asking for submissions please bear with us as we do not know what kind of response to expect (don't let that put you off) but we will make every effort to let you know that we have received your submission and whether we have selected you or not. We will make every effort to do so in a timely fashion so that you are not waiting & wondering (we know how much that sucks).  
 
Think your art is for us? Send your evil Scribbles to:
 
 Please use "Art Submission" in the subject line or it will be deleted without us even looking.

Good luck Scribblers!
*There is No Deadline. At the end of each month The Scribblers will select an artist to display and the winner will be contacted for additional info. 
Again Good Luck Scribblers!
---
Writing Submissions

At this time the Scribblers are not able to take writing submissions but please be patient if you think your work would fit here. We will open up writing submissions soon but at this time we just don't have the time for all the work that entails. We are still fairly new to this so just bear with us and keep scribbling your evil thoughts as we continue to grow.